Client Background
Tantek 4D is a leading provider in Engineer & Management services within the Architectural, Engineering, Construction and Operations (AECO) industry, throughout Ireland, the UK and Europe. 
Based in Co. Sligo, the company is one of the most exciting digital engineering companies to emerge. They provide innovative and advanced digital solutions for the built environment, assisting clients with digital technology solutions from design conception through to project completion.
Tantek approached Proactive as they were seeking expertise in website redesign and the promotion of Tantek through social media, paid search and a brand campaign.
Services Provided by Tantek 4D
4D BIM
BIM Coordination
3D Digital Animations
3D Laser Scanning
Digital Strategy Consulting
How Proactive Helped Tantek 4D Rebrand
When Tantek 4D, previously known as Tantek Solutions approached Proactive for marketing support, they were seen as a progressive family-owned business providing innovative 4D and BIM services to clients in Ireland, the UK and Sweden. The existing website was good but offered a poor user experience (UX) and there were some concerns around the brand name, its perception and recognition in international markets. 
Proactive conducted a strategy workshop with Tantek's owners to establish what the key goals for the company are and identify the areas where Proactive's skills and expertise would be best utilised to improve Tantek's online presence, messaging and digital marketing activities. Desk research was conducted to clarify the brand's position, the company's existing markets and target audiences, and opportunities that exist to reach new markets.
A brand audit was conducted to identify the various branding touchpoints, logos and communications used both internally and externally within the company. Some employees were interviewed to gain further insight into how they perceived the company, the Tantek brand and the services offered. From this, Proactive then worked with the client on a complete Brand Redevelopment Project.
It was established early on in the project that a rebrand would be required, to create a shift and brand realignment to better reflect Tantek's expertise and the services they offer to international markets. The challenge was to reposition Tantek Solutions from a family business to a more professional, international company. This was achieved through:
Rebranding from Tantek Solutions to Tantek 4D 

and introducing new brand guidelines. 

The creation of a new logo that showcased the innovative and high-tech services offered by the company.

Clear communication and messaging strategy.

A new website design that reflected the clients highly visual and creative services and that offered a good User Experience (UX). 

Social media review and implementation of campaigns driven through a planned content calendar. 

SEO management and lead generation campaigns.
Rebranding & Logo Creation
The development of a new name was a key priority as it needed to portray the company to international markets in such a way that they trusted Tantek to have the expertise and capacity to deliver on large scale projects. 
During the strategy workshop, the company owners concluded that 4D sums up where they want to be in the future as over 50% of their recurring income and new projects come from 4D and BIM projects or services connected in some way to 4D. It was identified that '4D' should ideally be incorporated into their new name and so Tantek Solutions became Tantek 4D. 
Proactive's design team were then able to create new logo concepts that showcased the innovative and high-tech services offered by the company.
New brand guidelines were also developed to make the rebranding process as seamless  as possible for the Tantek team. The brand guidelines included the official logo for Tantek 4D as well as logo alternatives and the colour palette that will be used going forward across their website and marketing collateral.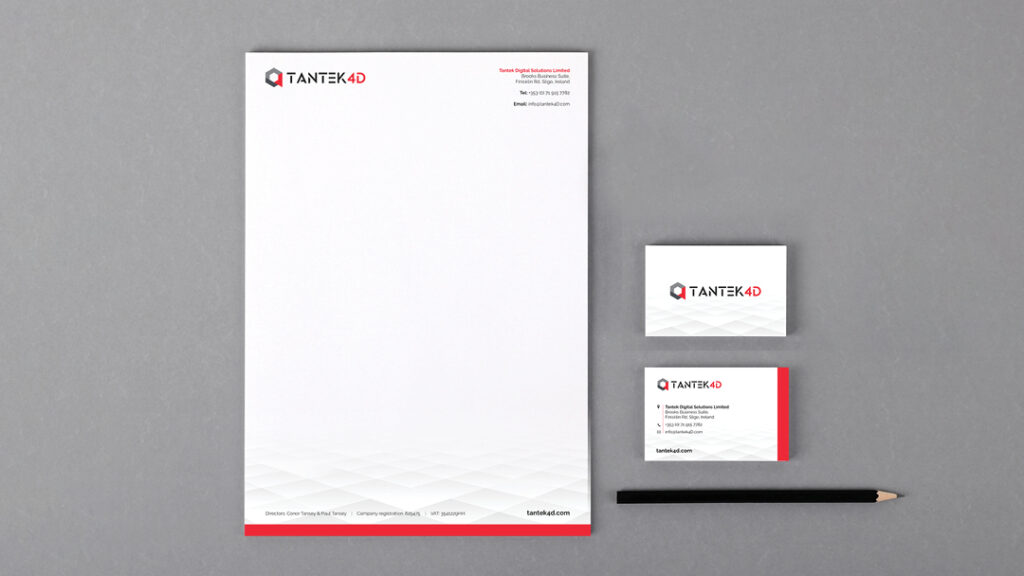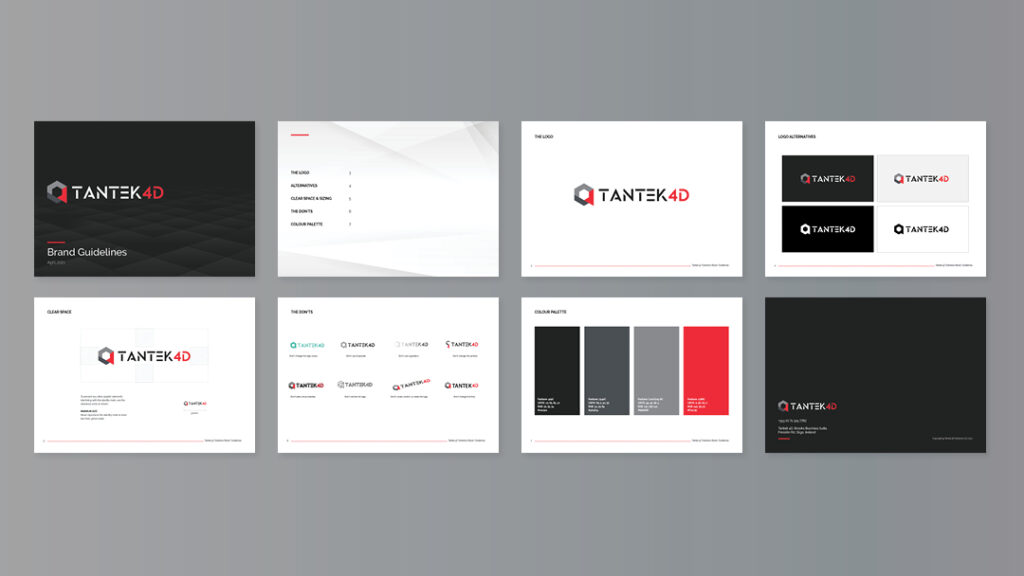 Messaging Strategy
The strapline and general messaging needed to be reviewed to ensure a more professional tone and also to aid the repositioning of the company from a family-run business to an industry-leading professional organisation. 
Proactive worked with Tantek in the messaging review process to realign the messaging across the site and take the emphasis off 'family' while retaining the caring core value of the Tantek team by replacing phrases like 'Tantek Solutions is a family run business', with 'Tantek 4D is one of Ireland, the UK and Europe's most exciting digital engineering companies to emerge'.
Built Environment was highlighted as a key industry term that should feature strongly on all communications, this phrase now features in the leading statement on the Homepage and on new marketing materials. Another key focus was around Health and Safety scenario planning which is of particular interest to large manufacturing companies who need to minimise downtime during renovations. This core skill is illustrated very visually using video, CAD and motion graphics.
Website UX Design
Proactive worked closely with Tantek's owners to create and agree on a wireframe and user journey that would generate an intuitive user experience. Inspiration for the website redesign was taken from the new logo and brand colours that had already been established and approved by the Tantek team. 
The team at Tantek provided the content for the Website and the Proactive Digital team optimised the text and imagery to feed into the SEO campaign.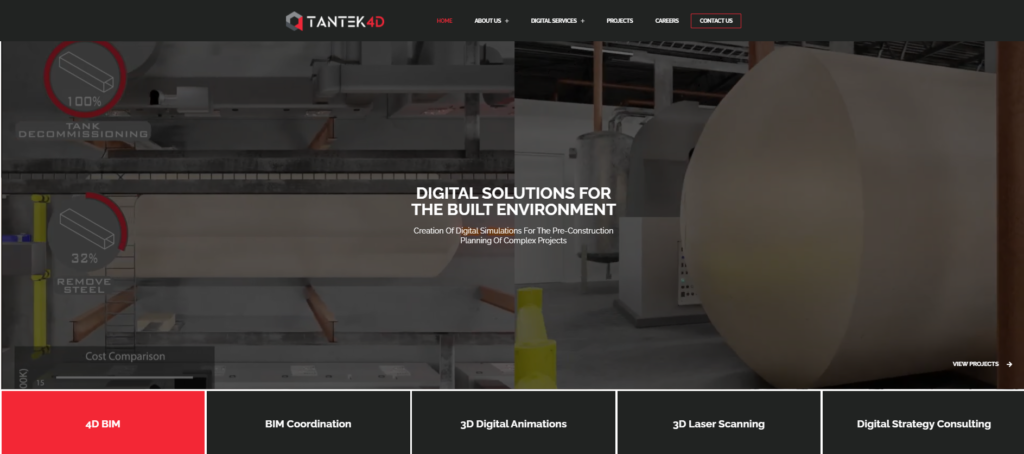 Social Media Review
Some of Tantek's direct competitors have a very strong social media presence, with large followings for the industry and are actively posting. The Tantek team were aware that they lacked a strong social media presence.
This rebranding project was the perfect opportunity to create a fresh social media strategy to incorporate an organic content calendar as well as paid advertising activities. The new logo and branding were applied to Tanteks existing social media channels.  
Proactive is currently undertaking a 12-month digital marketing campaign for Tantek, which will look at identifying target audiences and buyer personas, the creation of campaigns to increase social media traffic, engagement and page followers as well as a paid advertising strategy for brand awareness and qualified lead conversion purposes.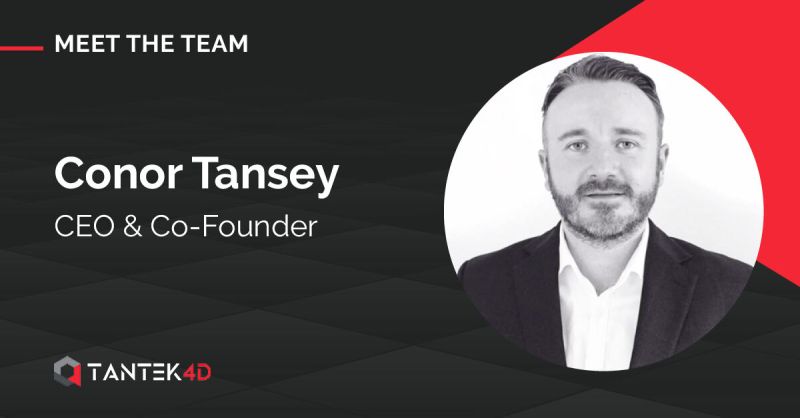 SEO Management
Proactive have also been engaged to manage Tantek's SEO activities, as the new website requires ongoing SEO to increase organic traffic to the site for targeted keywords.
Key objectives are to gain high positions on SERP (Search Engine Results Page) for the emerging technology of 4D, establishing authority on the topic and keywords. 
Additionally, the UK and European markets are part of the company's growth strategy. Generating international content and growing traffic from these regions is a key goal in the SEO strategy. Changing the site to a .com with the new branding was part of this process.
An SEO audit provides actionable suggestions that will increase organic search traffic. The purpose of this audit is to provide guidance to make informed decisions, take the right actions and attain better search results from existing and new content. This audit will include keywords analysis, competitor analysis, technical SEO review, page-level analysis and content analysis. 
Once the audit is complete, the site will be optimised for the agreed keywords and will be monitored over the agreed 12 month period. The content, titles and links of pages will be continually reviewed and optimised to maximise the search engine results page positions.
Conclusion
Over a 6-8 week period, Proactive has provided the desired outcome on this project. Tantek 4D now has stronger branding including a new name and logo, which is transferable internationally, enabling them to expand into new markets. 
The website redesign better encapsulates who Tantek is and the services they offer within the Architectural, Engineering, Construction and Operations (AECO) industry. It also offers a better user experience and contains key content such as video content, project case studies, high-quality imagery and animations. 
The website's content and overall messaging strategy for both online and offline activities have been realigned to better reflect Tantek's expertise and the services they offer to international markets.
Ongoing SEO management and digital marketing activities over the next 12 months will bring further success in generating brand awareness in new markets and helping Tantek to gain qualified leads. 
The brand assets provided by Proactive also includes designed report covers, PowerPoint presentations, stationery and invoicing templates.