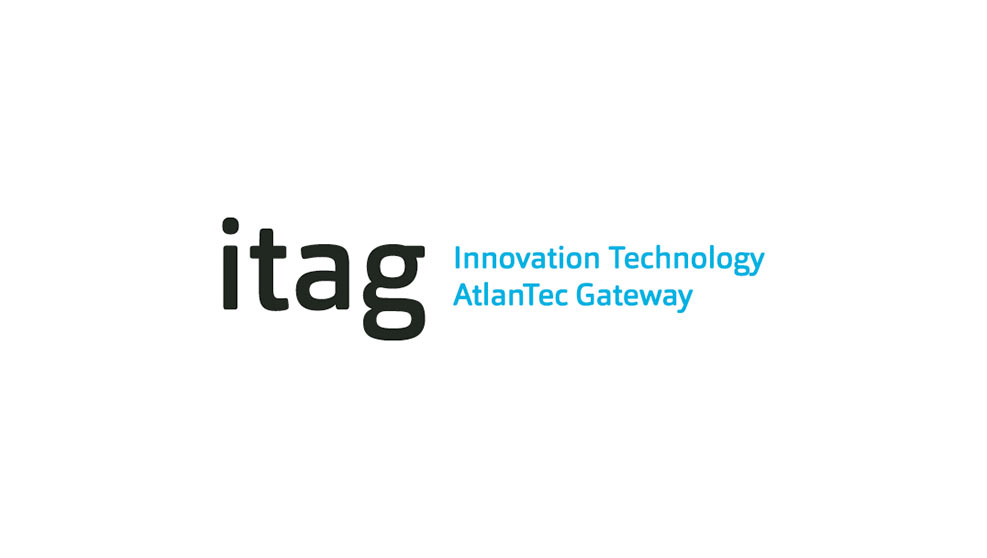 The client – itag
itag was established in 2000 to promote, strengthen and grow the innovation and technology industry in the West of Ireland. As leaders in tech collaboration, itag connects members through networking events, tech talks, social events, and by hosting upskilling opportunities for leadership and future skills development. 
itag collaborates with third level institutions, government agencies, professional bodies and international partners to drive members' shared commitment to the ongoing sustainable development of the tech community.
Project Overview
Concept development, design and implementation of a new itag brand identity. 

Design of sub brand identity system

Branding strategy and brand guidelines development

Creative design of stationery suite, membership materials, event brochures, posters, and PowerPoint design

Website UX, design and development
Project Background
Over the past five years, itag has been building a global technology festival along the Atlantic Way called AtlanTec, where thought leaders meet to discuss, debate, inform, educate, forecast and evaluate innovation in the tech sector. Based on the popularity of this festival, the itag Board of Management had raised the question as to whether the organisation should rebrand itself as AtlanTec.
Having provided itag with marketing consultancy, graphic design and website development services in the past, Proactive Design + Marketing was a natural port of call for advice and recommendations on this issue.
Brand Audit Findings
In order to establish how the brand was currently being used, Proactive first conducted a brand audit by reviewing all existing communication materials. This also showed how the various sub brand identities worked together, and how they related back to the main brand. It was noted that various, disparate logos and itag abbreviations were in use across materials. As itag's scope of activities expanded, there were no guidelines in place for the development of sub brands for new events or new forums, for example. The use of the word 'Galway' in the itag branding was also deemed to be somewhat limiting, as the geographical area supported was now much wider than the Galway region. We also found that there was no obvious link in branding between itag and their flagship industry festival, AtlanTec, which used a different font, colour palette and icon.
Naming Recommendations
itag is a well known and highly regarded organisation within its target audience.
Its reputation has been steadily built over the past 20 years, and has strengthened as its role and activities have grown. Anecdotally it has been found that no-one refers to itag as 'Information Technology Association Galway' – it is simply known as itag. For this reason, we found the inclusion of the 'G' in itag- denoting Galway – to be only a minor issue. We also believed that this could be addressed easily by changing the abbreviation to stand for Innovation Technology AtlanTec Gateway, a better representation of the current organisation. The AtlanTec Festival reputation is strong and has been built over the last five years. We felt that rebranding itag as AtlanTec would cause confusion. 
Proactive Design + Marketing, therefore, recommended that the itag name be retained. However, the brand identity needed to be reviewed and refined, with clear identity guidelines for future use of the brand to ensure consistency and build recognition.
Introducing the New Brand Identity and Sub-Brands
The outcomes of the brand audit helped inform the development of a new visual identity for itag. The existing legacy and brand value of both current itag and AtlantTec visual identities were considered. 
Our creative team got to work creating a brand identity that represents itag's brand personality, delivers their brand promise but is also simple, effective and easy-to-use.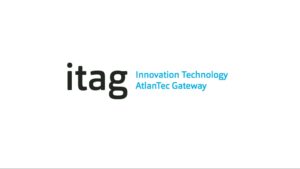 Lower case lettering was retained to perpetuate the established brand identity, while a new typeface adds a friendly personality with a strong weight to give it prominence alongside other brands and sub brands.
The confident colour scheme comprises a bright blue that sits well alongside the previous black colour. The vibrant blue lends a friendly, contemporary look and feel to the logo. Orgon is used as the main typeface. This is a sans serif font with slightly rounded edges, so it looks less harsh and more inviting. 
The new brand identity is versatile and can be used across various digital and print materials. It also allows for the development of sub brands such as new forums and events, which previously lacked consistency and diluted the organisation's brand identity.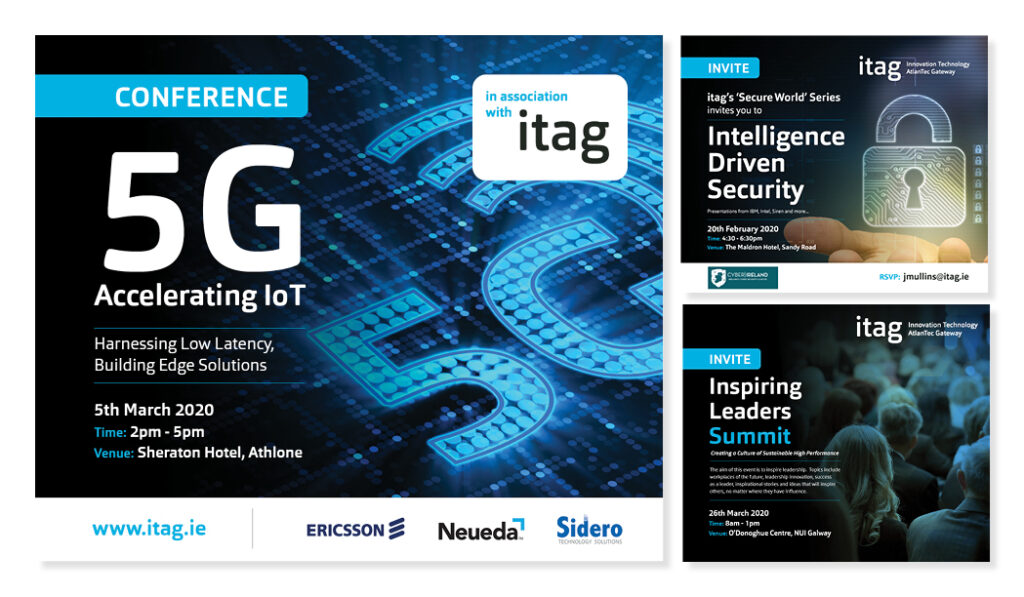 The itag 'supported by', and 'in association with' logos will be used alongside related content such as TechTalks press releases and third party events, initiatives and campaigns.
A suite of member forum logos have been agreed upon and approved for use. These include identities for their Medtech Forum, Human Capital Forum, Fintech Forum, Digital Women's Forum, Cyber Forum, and so on. The tabbed block adds a strong base for additional forum logos to be created in a consistent manner as the organisation grows.
As a high profile sub brand of itag, the AtlanTec logo now includes the itag name and uses the same font as the main logo. A new sub brand was also created for the itag Excellence Awards, which celebrates companies who develop innovative technologies and achieve exceptional success and significant results with the technology sector.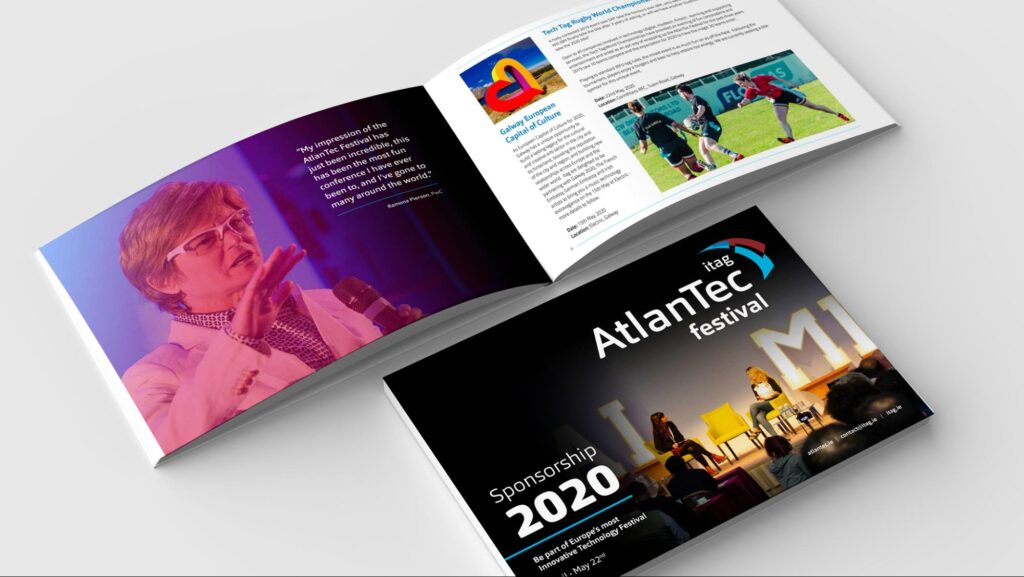 For social media, a simplified square version of the logo can be used in icon format.
Creating Clear Brand Guidelines
Following sign off, all final logo master files were created for the full itag brand identity system. We developed brand guidelines containing details of font usage, minimum sizing and spacing, colour palette, imagery styles, stationery, PowerPoint templates and marketing materials showing the new branding in use.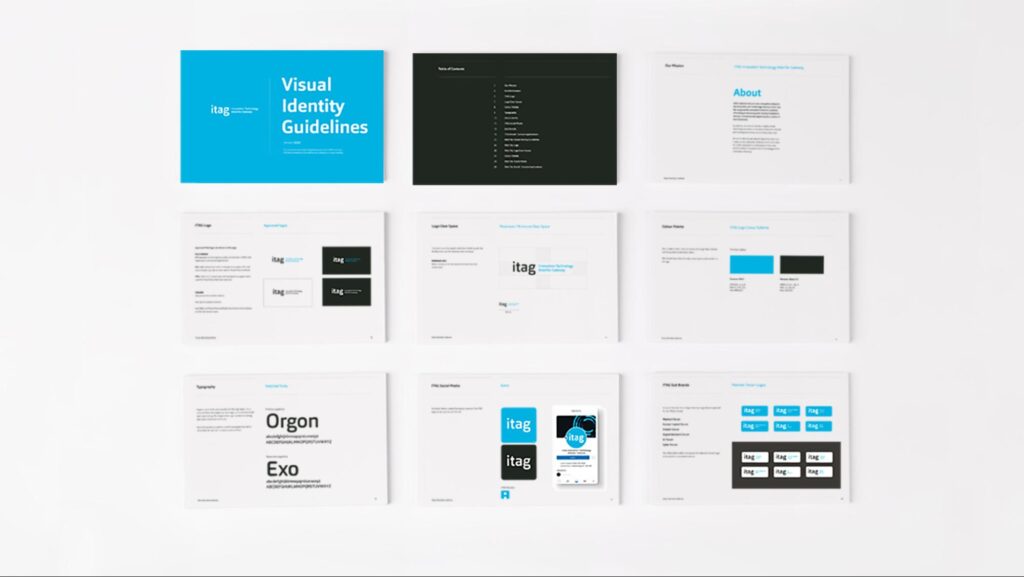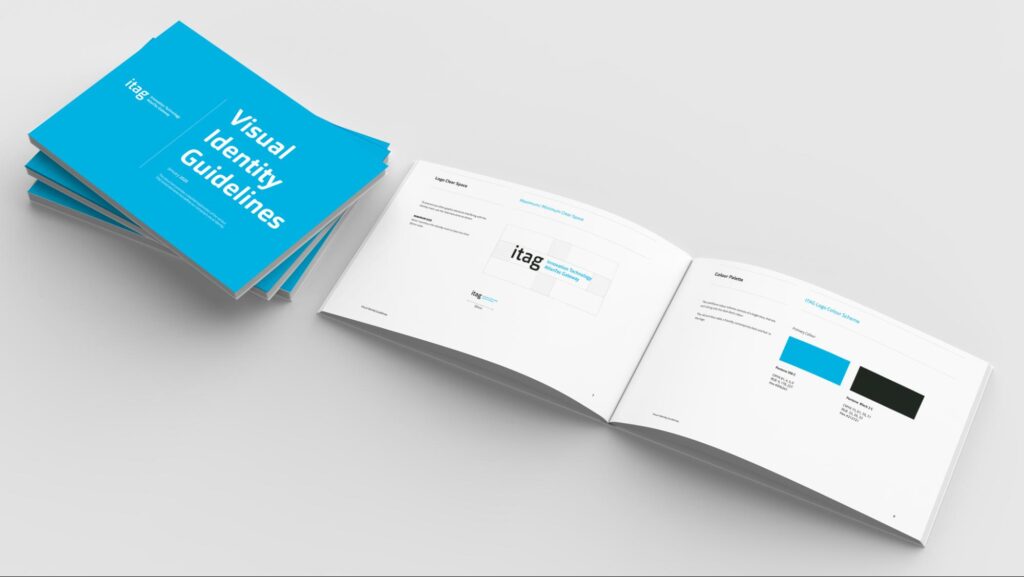 Website Development Project
Following the rebranding process, the management team wanted to develop an informative, community-based website that is inclusive for all visitors and members of itag.
The principle elements of the brief included the following: 
The website needed to be professionally and aesthetically pleasing with a high visual impact modern look and clean design introducing the new brand identity. 

It needed to be a true reflection of the ethos of the organisation, along with the scope and quality of activities undertaken by the organisation. 

It should showcase

upcoming and past networking events, tech talks, and upskilling opportunities 

It should also showcase their large, impressive portfolio of members located across the country, not just in Galway. 

It must allow for simple navigation in a recognisable and obvious way, to allow site visitors and members to navigate easily and reach content in the fewest clicks possible.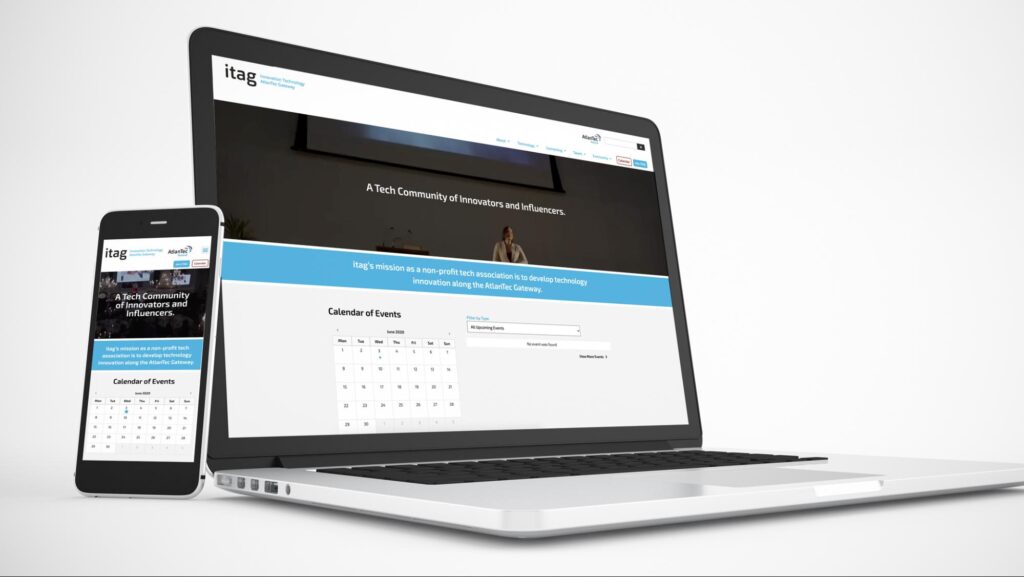 Website solution provided by Proactive Design + Marketing included:
A graphically strong homepage that positions the organisation as l

eading and supporting a thriving technology community of innovators and influencers along the Atlantic Gateway

Creation of a 30-second positioning video for the homepage

Dynamic homepage, pulling important information from the site content

Responsive design ensuring the website is accessible on multiple platforms, e.g. desktop, tablet, and mobile

User-friendly navigation bar and uniform header section used on all pages

Events calendar displaying upcoming and past events

Talent – HR / Company Vacancies Listings

Members sign up facility to the Members Map Directory

Newsletter sign up 

Integrated social media and social share options

SEO friendly 

Google Analytics to track visitor statistics

Easy to use CMS system with training provided with itag staff members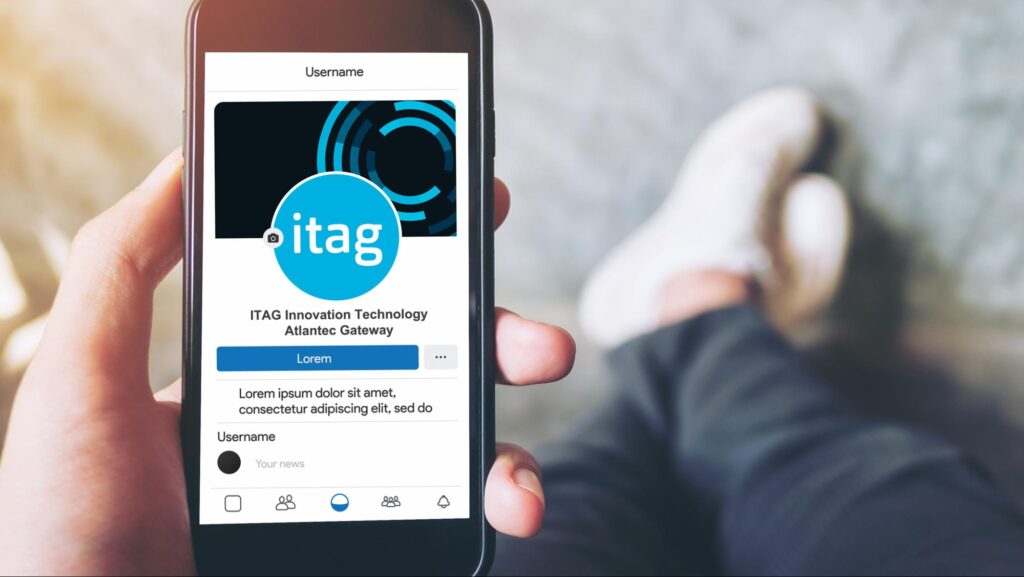 Client Testimonial
"Having dealt with Proactive Design + Marketing on previous occasions, when the time came around for a discussion on the future direction of the itag branding, Proactive were our first port of call.  From the outset, Ray, Breda, and the team could visualise what we were looking for. We found them to be extremely efficient, responsive, and a pleasure to work with. We couldn't recommend them highly enough for their professionalism and creativity." 
Caroline Cawley, CEO, itag