A new way of working…
It's been an interesting 6 weeks on projects that required some very creative thinking. Let us share one example with you and offer a few tips on how your company can embrace this new working environment.

Project Background & Brief
We at Proactive Design + Marketing were delighted to work with GMIT on their 'Virtual Open Day' online experience, developed for prospective CAO students and their families. The Virtual Open Day site was built to a very tight deadline in response to the COVID-19 restrictions which was made possible because the team at GMIT rose to the challenge and worked with us, from their homes, to develop the video content, messaging and imagery.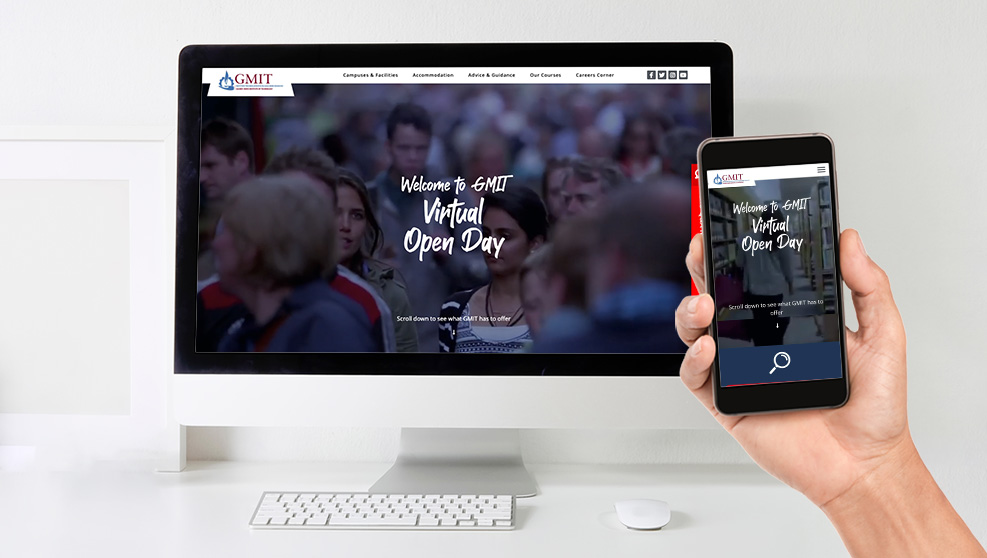 Project Management
The Proactive team designed and developed a comprehensive new online platform openday.gmit.ie, featuring information about all five campuses, offering more than 100 courses over twelve disciplines, advice and guidance for students as well as personal welcome videos from academics and support staff.
Having content prepared in a timely and methodical fashion is crucial to a speedy website build, no matter the size of the project. Our project managers played a crucial role in liaising with the GMIT team to remaster existing content, identify gaps and provide guidelines and support on how to produce videos from home.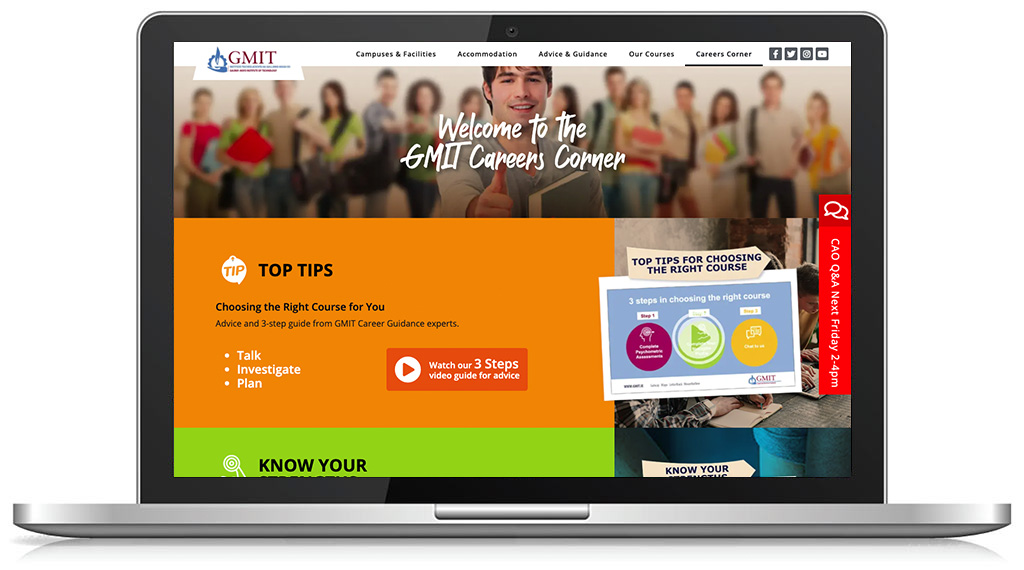 Design Rationale
Having worked with GMIT for over 23 years, our Design Team also did an impressive job of quickly producing creative designs. 
The eye-catching design was produced by lead designer James Kelly, with careful considerations made for mobile users once the look and feel had been agreed. We built the site with 'mobile-first' in mind, as most visitors will likely be accessing the site from their phones. It is important that students on all connections and all devices are able to browse and explore what GMIT has to offer.
The design was inspired by pop art grunge, using a palette of colours corresponding to the 12 disciplines at GMIT. This style, along with the contemporary typefaces, was intended to provoke a response from the target audience. 
Branding is consistent throughout; the logo is positioned at the top left, which is where the eye is naturally drawn, effectively capturing the attention of the viewer on each page. Consistent branding provides customers with an integrated and memorable brand experience.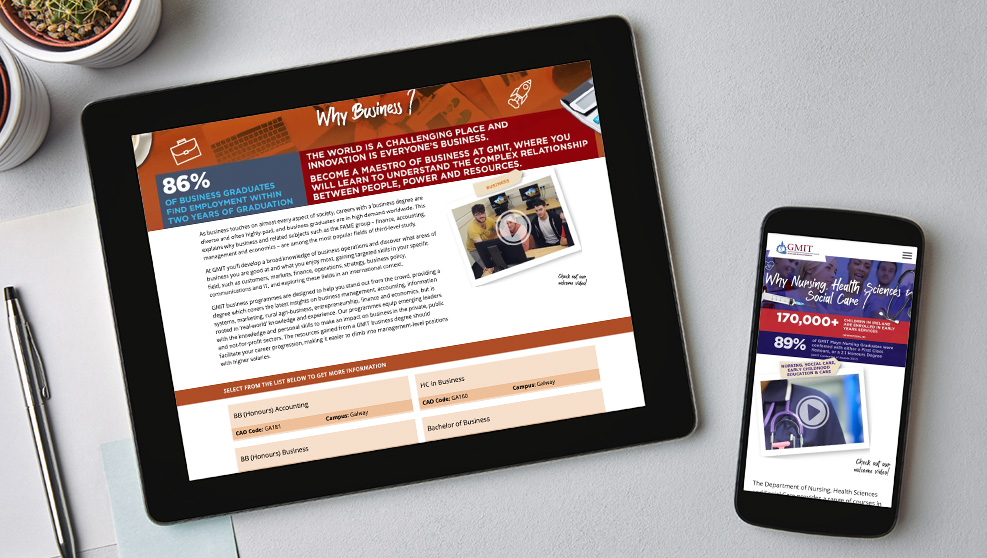 Website Development
The high-quality website design was built by Melissa Mannion, Front-End Web Developer and Designer, and uses intuitive navigation, while the animation throughout the site makes it stimulating and engaging for the visitor. Call-to-action buttons strategically placed on the site encourage visitors to interact and stay on the site longer.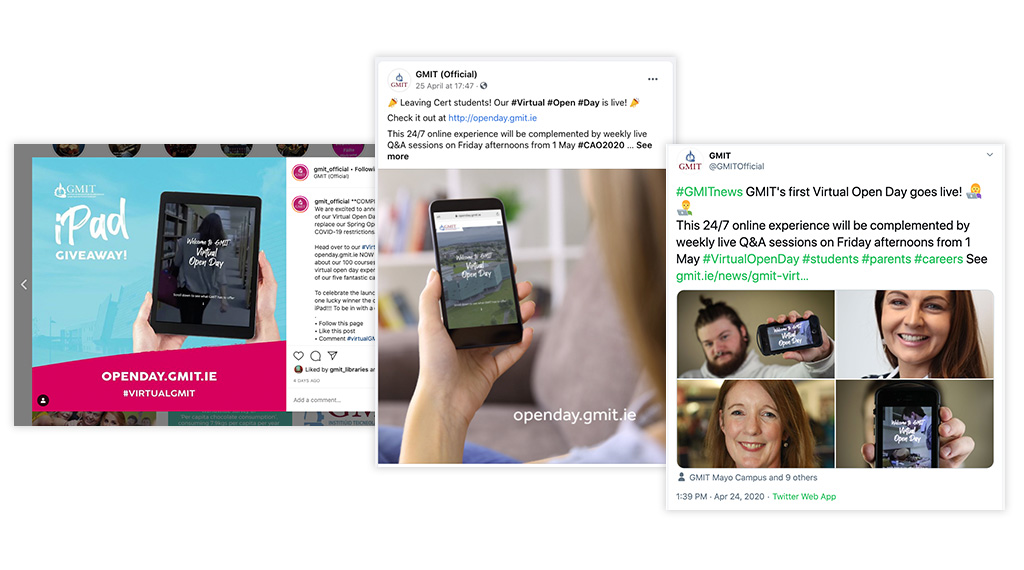 Digital Marketing Campaign
Following the launch of the site, the Proactive Digital Marketing team very quickly distilled the design assets and messaging from the website into concise, targeted social media campaigns which were supported with a series of email newsletters. A combination of organic and paid campaigns were set up to drive traffic to the site and encourage attendance of the live Q&A sessions.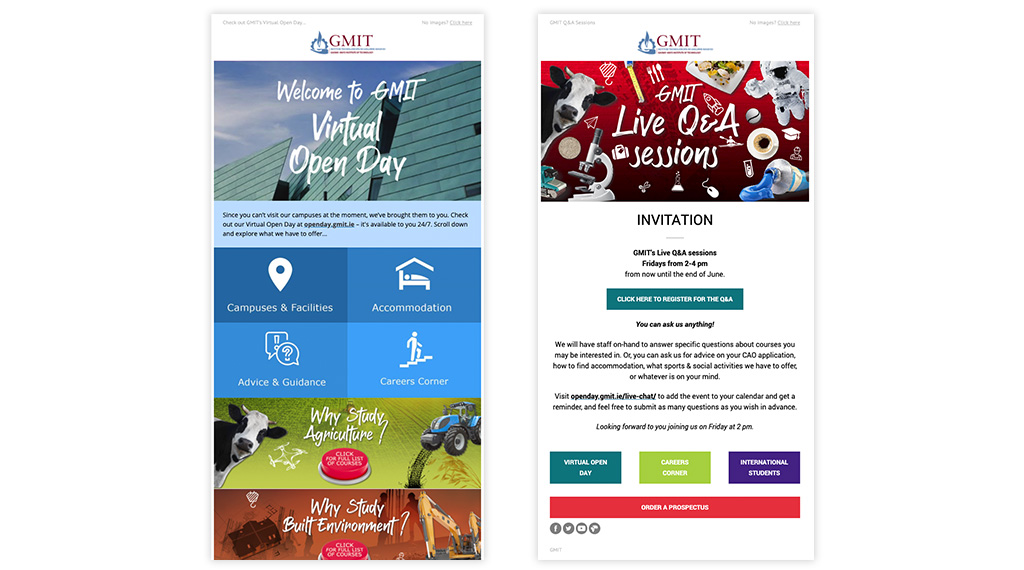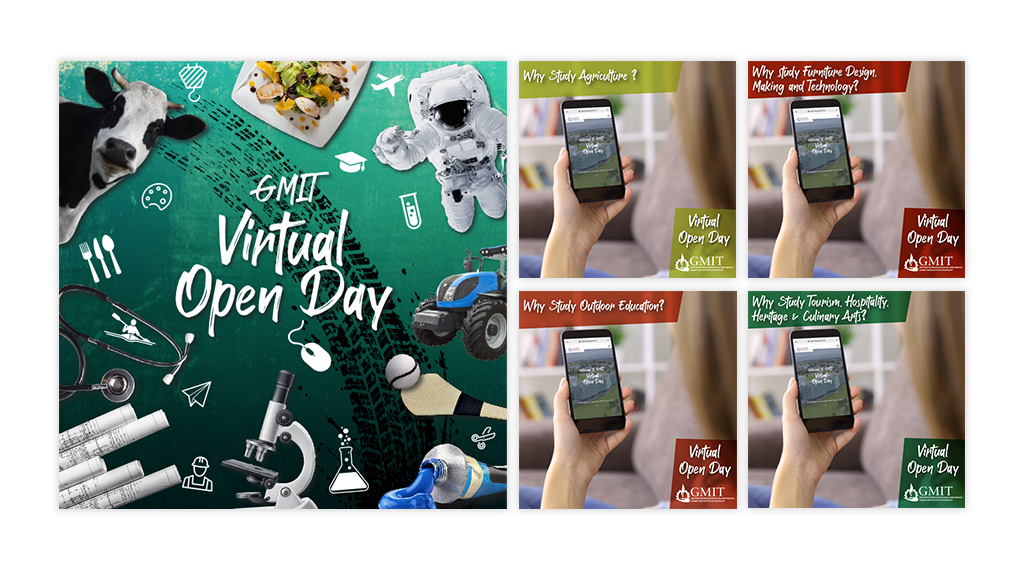 The Future Role of Virtual Experiences
While this online, virtual counterpart of physical open day events will never replace the experience of visiting the campuses in person, they can still give students a good sense of what GMIT has to offer in a more accessible and customised format – from anywhere in the world. In future, rather than replacing the in-person experience, the virtual tour can be used as a highly effective tool to enhance and supplement the open day offering. This is a creative and innovative solution, not limited to academic institutions – we look forward to working on many more virtual tours in the coming months and years. The future is here.