Higher Education For All
A must-view, free resource for employers and learners
Atlantic Technological University (ATU) has launched the mycareerpath.ie online platform – an ambitious, innovative project with a vision to provide access to higher education for all – including those with no formal qualifications.
This comprehensive service will advise potential learners and their employers on the various learning pathways to higher education. This incorporates the Recognition of Prior Learning (RPL) process, which allows access to further education based on learning achieved outside formal academic qualifications, such as work or other educational/learning settings. It also facilitates the development of personalised career and learning pathways.
mycareerpath.ie is a FREE service created for learners, employees, employers and entrepreneurs to help develop their skills and employability with the support of a team of ATU mentors. It also offers access to an unparalleled suite of resources and courses across the nine ATU campus locations in Donegal, Galway and Sligo.
How mycareerpath.ie works

Designing a User Experience for Multiple Audiences

Proactive Design + Marketing and the ATU team worked closely together to devise a name, logo and brand for this exciting initiative. We then created a website design that was simple and easy to navigate, whilst also providing the necessary information and clear links throughout.

The design team determined the visual balance that was required. Being clear and concise is crucial; the design must be intuitive and – most importantly – meet the user's needs. In this case, it should also appeal to two very different target audiences.

The clever use of forms and the set of resources available on the site helps coordinators present their vision to companies and encourage and support individuals to pursue further education.
The site integrates a calendar that allows users to book an appointment directly with one of the Career and Learning Pathway advisers by accessing free appointment slots in their diaries.
Proactive Design + Marketing's work on this project has resulted in a strong brand identity for My Career Path. The new name and logo are recognisable and memorable. The website is simple, effective and easy to navigate, giving the user a better experience.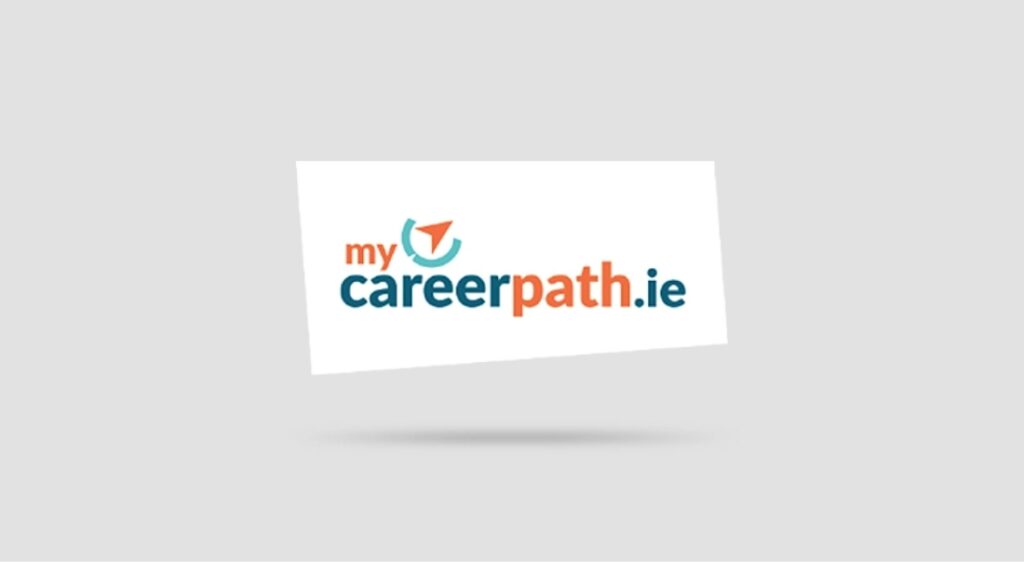 Rebranding and Logo Creation
The name is descriptive, easy to remember and incorporates the URL. The brand uses modern colours, and the arrow in the symbol signifies career progression encompassed in an open circle to represent support.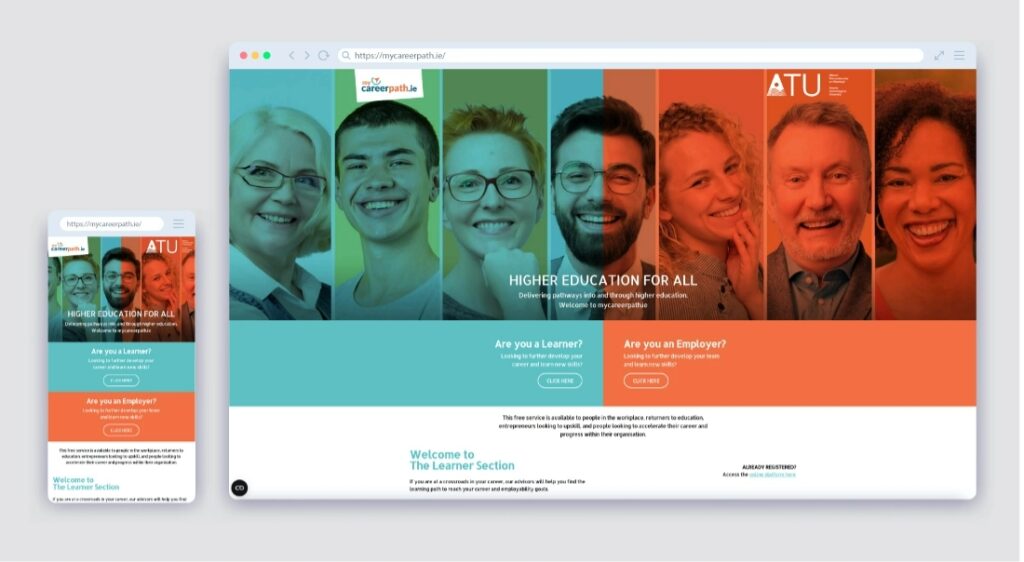 Visual Concept and Messaging
The messaging is friendly and welcoming with minimal text. The cover image will immediately resonate with the various target audiences, communicating instantly that there is something for everyone – from school leavers to retired people, and everyone in between.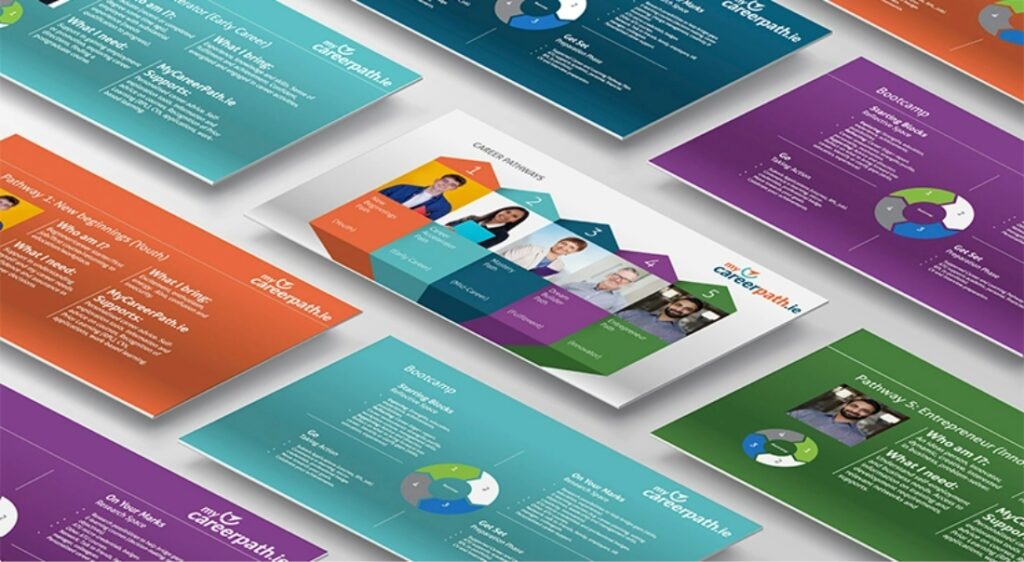 Learning Tools and Resources
Once the learner has registered and booked an appointment, one of the advisors will meet with them and identify the most beneficial career path for each individual. Proactive designed a suite of PowerPoint slides, posters and prompt cards to be used by the advisors to support the online resources.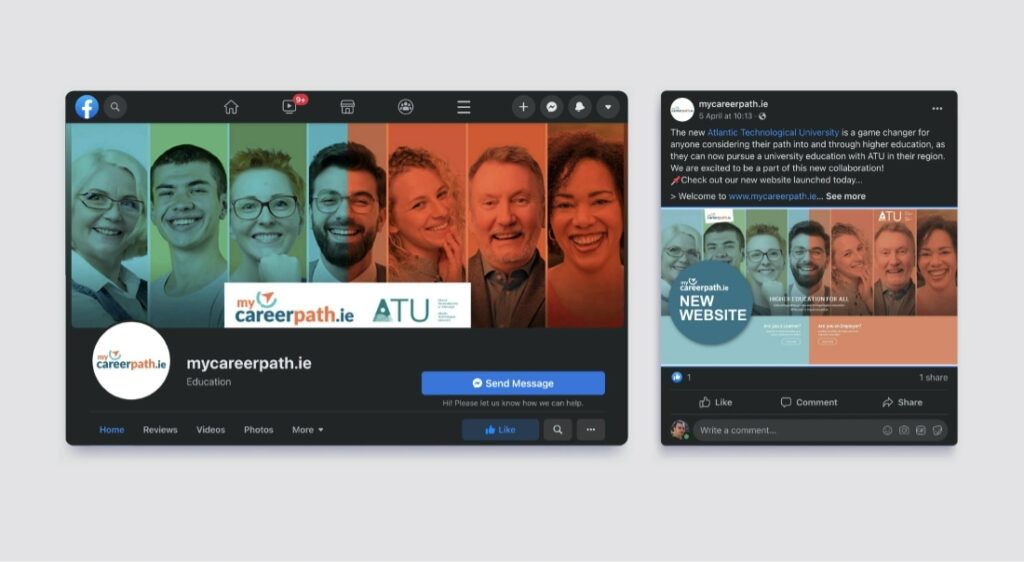 Social Media Templates
Proactive's digital team set up and branded all the digital channels and created content calendars for the launch. Editable templates were designed for the mycareerpath.ie team to create social graphics, which will encourage organic sharing of valuable content whilst building brand awareness and attracting new followers.