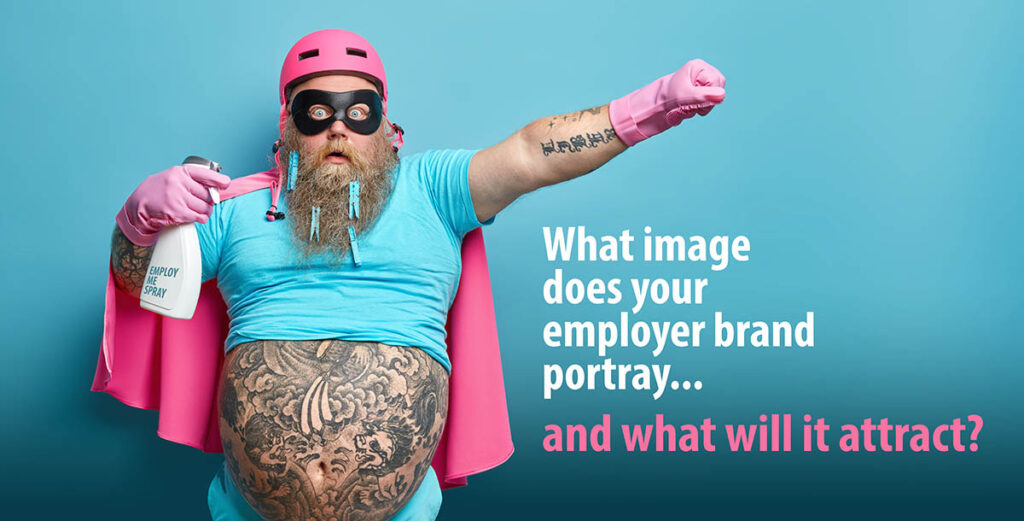 While recruiting has rarely been more challenging, with every challenge comes the opportunity for innovation and improvement.
A strong corporate brand plays a key role in attracting employees, along with really effective targeting, analytics and messaging. Get it right, and not only will you find the right fit, you'll also save time and resources along the way.
1. Choose a Format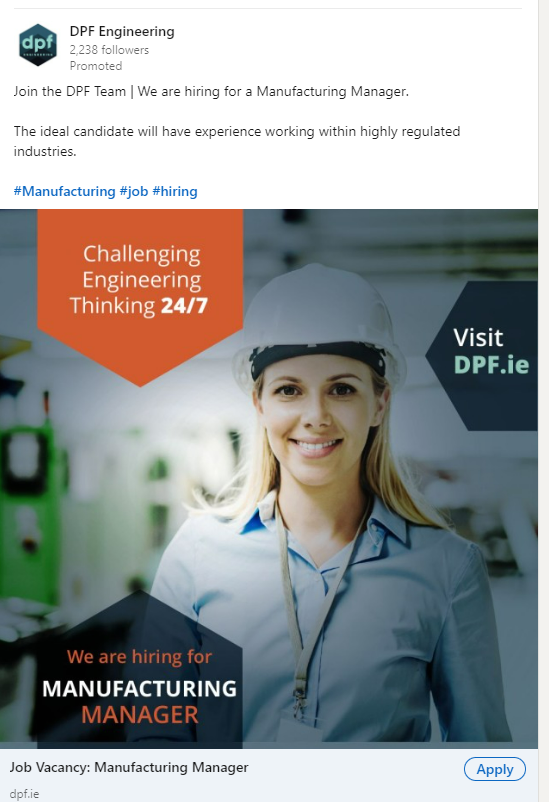 Step into the shoes of your ideal candidate. What channels would that person use to find a job – a professional networking site like LinkedIn, or the jobs section in their local newspaper?
Depending on the medium, the message should be tailored to the specified publication. For example Google Ads limits text copy to 90 characters for each line of the description, and 30 for each headline.
Carlow-based precision engineering company DPF Engineering enlisted the services of Proactive Design + Marketing to create a Linkedin recruitment campaign to fill two senior management positions for Manufacturing Manager and HSEQ Manager. Web graphics and ad copy for both their social media and website were carefully crafted to generate interest and encourage applications. Importantly, the ads focus on the opportunity to work with cutting-edge technology, and "Challenging Engineering Thinking". The resulting campaign was one of their most popular in 2021, reaching a wider audience than the initial target persona and helped fill an important role within the company.
Proactive also worked with global biopharmaceutical giant AbbVie, delivering a recruitment campaign for its Irish facility in Sligo. Focusing on the job satisfaction associated with developing life-changing products, as well as the unique lifestyle benefits of AbbVie's location on the Wild Atlantic Way, the carefully targeted campaign featured on display stands and billboards at airports, in industry print publications, and on social media.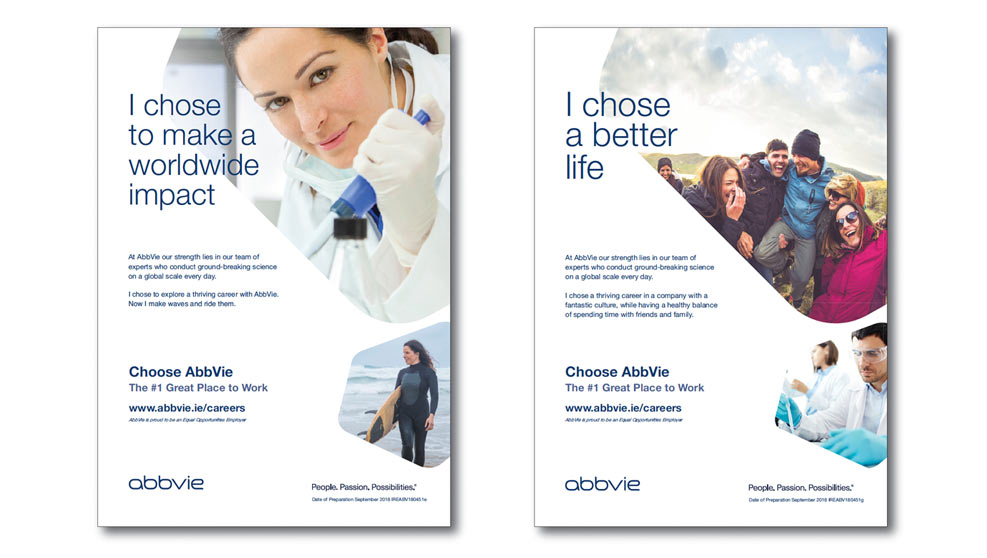 2. Specify Budget
Generally speaking, a bigger budget means greater reach. This doesn't mean that all recruitment adverts need to be expensive, however. If you have identified a very specific candidate profile on a particular channel, a targeted approach can yield fewer candidates who may be a stronger fit for the role.
Proactive can work with your recruitment agency to provide support and offer advice in line with your allocated budget. This helps you and your team manage costs accordingly, and ensure your spend goes directly toward paid campaigns where a ROI can be measured.
3. Identify the Candidate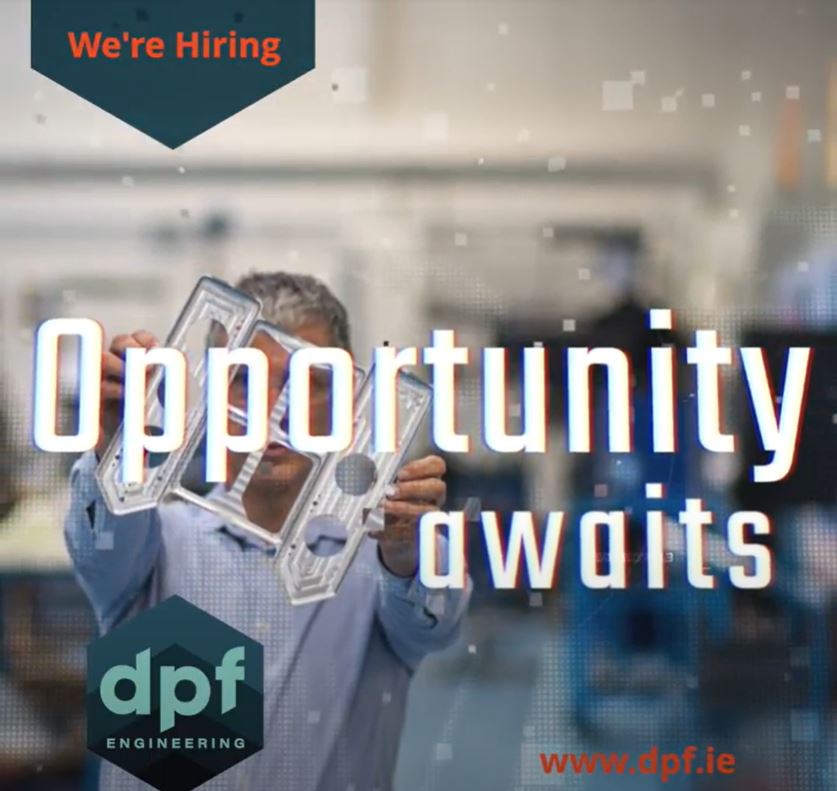 It's also important to consider the needs of the candidate and to speak their language.
What is relevant to an insurance salesperson may not be as important to a marketing graduate. Understanding what motivates a particular candidate will improve conversion rates and generate stronger candidate leads for the role. A little research or speaking with current employees in similar roles can provide excellent feedback.
Proactive worked with DPF to elicit employee feedback using a survey campaign, which identified areas of the business that needed improvement and highlighted existing areas that worked well. This helped the management team improve efficiencies and foster better communication with staff.
A happy team is a productive team; for DPF recruitment campaigns, adverts and copy were carefully designed to speak directly to the needs of candidates in specific job roles.
4. Magnetise Your Ads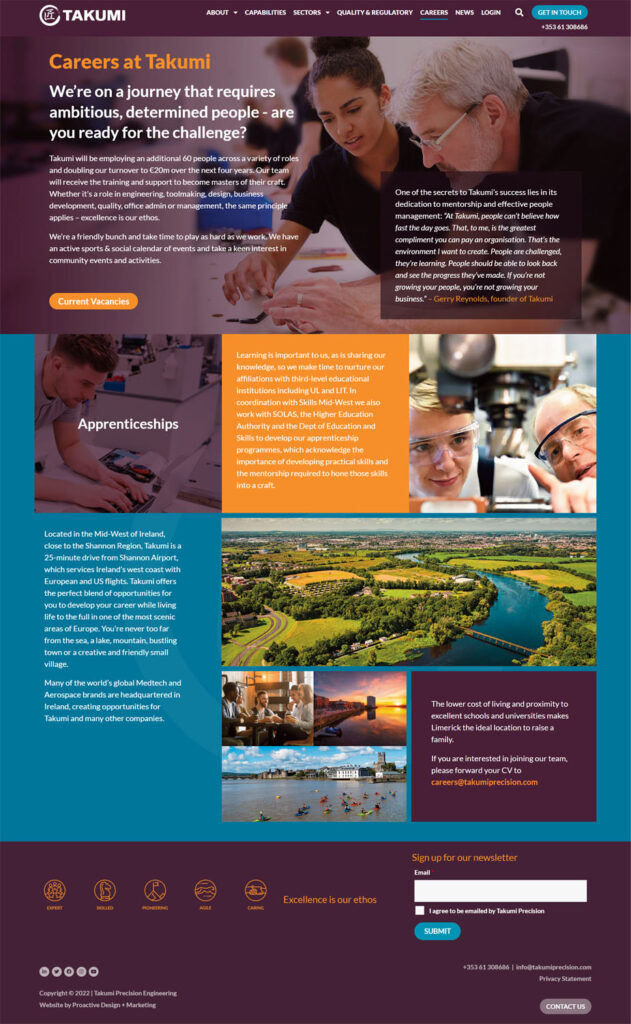 A well-written job post can really capture attention and encourage candidates to explore the job opportunity in more detail. This is where the 'hook' comes in.
Have you captured the essence of what the role entails? Have you chosen compelling, high quality visuals that would entice someone to read further? Has the copy been proofread? Is there a seamless journey to apply for the position?
Takumi Precision, a leading precision engineering company based in Limerick, have worked with Proactive on a number of projects in recent years. We helped establish a brand and tone of voice that connects with potential candidates and helps them better understand the culture of the company. This was delivered with high quality web graphics to engage the audience.
The careful, deliberate brand management in the website copy is consistent with the company's messaging.
In the case of Takumi, we wanted to present a brand with deep roots and familiarity with its locality, while also communicating its ambition and growing presence in international markets.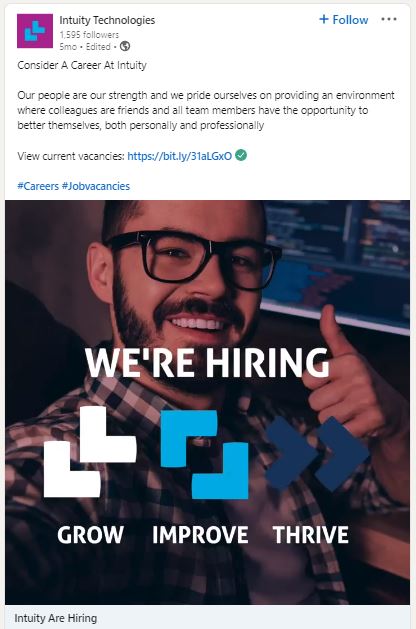 Intuity, a managed IT solutions provider, also worked with Proactive on a number of recruitment campaigns.
These included posts on Linkedin to generate interest in job ads. Proactive designed the video graphics, created the copy, and targeted the ads to reach a pool of relevant candidates for the various roles. The ads promoted the importance of people in the organisation, and the personal and professional development opportunities provided.
Using consistently designed templates to support your branding across all platforms will make it easy for people to apply for the position.
5. Calibrate, Innovate and Accumulate
Depending on the medium you have chosen for your job advert, you may have additional insights into the performance of the campaign. These insights help you refine your campaigns for even better targeting. They can tell you whether you need to alter budget, change target demographics, perform split testing (compare two or more versions of your ad), change copy or visuals, or choose a different platform altogether.
Typically, jobseekers are active on multiple channels. Budget can be portioned accordingly, depending on the campaign success to date. Thinking outside the box can often lead to new insights and help you reach new candidates.
In the current economic climate, it has been estimated that employees stay in a job for around four years. Even if a candidate isn't a fit for your company today, this doesn't mean that they won't be suitable for future positions. In all likelihood, they will have accrued more experience in the meantime – studies indicate that 80% are likely to apply again if they have had a positive experience during the recruitment process.
Ensuring that these candidate profiles are stored in a database (CRM, Excel or recruitment software) will provide access to a greater pool of candidates to engage with for other roles.
Creating successful recruitment adverts require planning, research and prior knowledge about the roles and profiles of the candidates you are recruiting.
At Proactive, we advise and help companies find their voice, amplify their brand to a wider audience and build successful talent recruitment campaigns.
You can learn more about how we can help your business by contacting us here.