One of the primary ways we communicate non-verbally in business is through the use of signage. Signs direct us to places we need to go, inform us of special offers and can provide various types of information. However, the potential for signage is vastly underutilised as signage does in fact do much more than this!
It's a given, potential customers will start to build a picture of who you are as a company and what you stand for, based on their first impressions. Your signage and company's fit out therefore plays a very important role in projecting your brand's identity and values.
It's vital that your signage presents a strong and striking first impression. It should project qualities such as professionalism, approachability, progressiveness, trustworthiness and ultimately encourage confidence in your brand.
Here are some tips and considerations you should think about:

Company and Brand Personality
Your company personality is what your customers see and identify with. Signage is a great opportunity to produce brand personality and make your brand memorable. Think of it as a vehicle for bringing authenticity and uniqueness to your business environment.
Look beyond just adding signage – other architectural changes such as improved lighting, wall and ceiling finishes, flooring and furniture – can all improve your customers experience.
For the Atlantic Aviation Group, our lead designer worked with Architects on the interior design and signage of their 2 buildings and introduced the concept of using refurbished Aircraft equipment to furnish the reception areas. This included introducing reupholstered aircraft chairs for reception seating, designing a custom boardroom table using the wing of an old airplane and combining an aircraft window panel and clock to make a stunning talking feature in reception. The achieved result produced a marked authenticity to their surroundings. See here.

Look around at your business and product offering – Is there a way you can incorporate your company personality or product offering into your signage and fit out to make your customer experience more memorable and therefore stand out from competitors?
Function of space and your audience
Of course, signage should function first but striking the balance between practical and personable is key. It's important to use signage that is legible but seamlessly integrated. A good example is NUI Galway Career Development Centre, where the signs produced are vibrant and dynamic expressing the Centre as personable and approachable to their target market, the students.
Don't forget another important group of people – your staff. Our surroundings have a huge impact on our mood and productivity. With simple changes, it is possible to boost creativity and productivity. You can transform staff workspace environments through colour and innovative and engaging designs, while reminding them of your brand identity and company ethos.
Placement
Placement is a key factor when considering what type of signage to place at your business. It determines the size and shape of the signage, the amount of text or imagery, and how useful the sign really is.
Signs can serve as a type of silent salesperson for your business. Exterior signs draw attention to your place of business and help differentiate it from others. An exterior sign is visible 24 hours a day, 365 days a year, therefore its effect is continuous. Interior signs can direct us, inform us of special offers and provide important information.
Text
Most signage will have some text or may even be completely text based. Information should be clear, concise and easy to understand. Where possible, use graphic symbols to help convey the message efficiently. Text and font used should be easily read with good colour contrast and sized in relation to its intended viewing.
Graphics
They say a picture paints a thousand words – Could an image or illustration be incorporated into your signage to attract and engage with the visitor? In the medical and engineering industry, illustrations are very common to communicate and simplify messaging. We work a lot with Creganna Medical, part of TE Medical, who incorporate a large wall mural into their customer site visits to convey all the areas in the body that their minimally invasive delivery & access devices are used.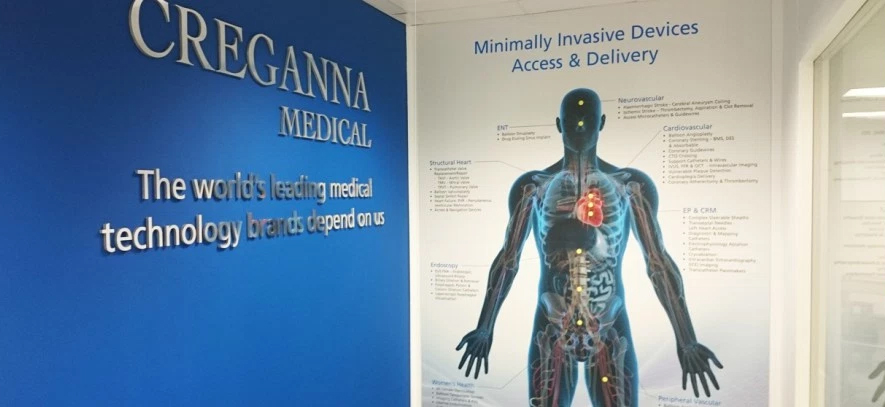 Beware however if an image has a lot of detail or complexity, as it can be difficult to make out what it is from a distance and messaging may get lost. Language barriers can also be overcome by using imagery, keeping text minimal and using universally known signs and symbols.
Language barriers can also be overcome by using imagery, keeping text minimal and using universally known signs and symbols.
Colour
Don't underestimate the impact of colour. Instantly introducing your companies colour palette into your signage and building structures can dramatically uplift and bring your brand to life in your surroundings.
Colours are also associated with certain emotions and qualities. For example, blue is the colour of trust. It is known to provide a calming effect and therefore is used frequently within the medical industry to convey sincerity and cleanliness.
The Proactive Process
In the day-to-day running of your business, it can be difficult to take a step back and have an objective look at what your company's signage and fit out says about you. Having someone who's not as close to the business, taking an outside view can make a huge difference – That's where Proactive can help.
We look at your premises from the first-time visitor's perspective. Our design process begins by looking and listening. Recent signage projects have been completed for Transitions Optical, Creganna Medical TE, CLS, DeCare Dental, Atlantic Aviation and NUI Galway. Call us today on 091 565154 to see how Proactive can help you leave a lasting impression.