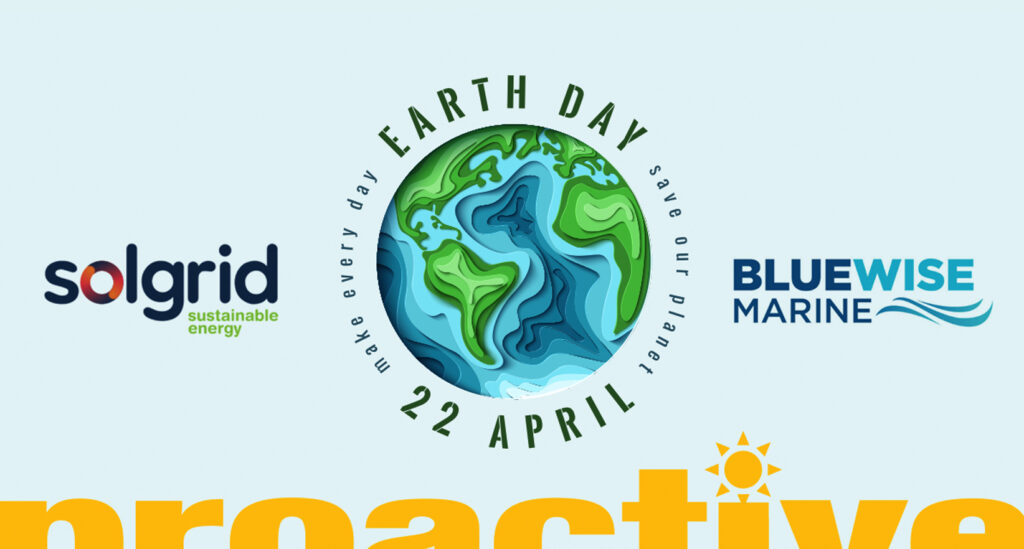 Every year on April 22nd, the world unites for a common cause – protecting our planet for future generations.
First held in 1970, Earth Day highlights global issues that affect every person both directly and indirectly. These include plastic pollution, resource exploitation, deforestation, climate change, inefficient energy use and waste management. The annual day of recognition now includes a range of events coordinated globally by EarthDay.org, and spans 193 countries (1 billion people).
Although there are many environmental issues that we face everyday, each individual can make a lasting difference and leave this planet in a better place for future generations.
Businesses have an important role to play to ensure the upkeep of our planet. The Proactive team is proud to support initiatives in this area, and we have worked closely with two companies in particular that demonstrate a desire to make our planet greener and more sustainable. 
Solgrid – an Irish-owned company located in Galway – works with businesses to provide advice, support and solutions to empower their transition to a low carbon future. The highly experienced team assess the current energy usage of a business and advise on the most sustainable and renewable energy channels that can be harnessed to maximise economic opportunities.
For Solgrid, a net zero approach is attainable, and that vision will only become more important for businesses in the future as more transparency and regulation is introduced to manage and measure company outputs and adhere to greener policies.

BlueWise Marine support its clients to develop, manage and promote marine and offshore renewable energy (ORE) projects and initiatives. These involve offshore wind, wave, tidal, airborne wind and floating solar technologies. Working with government, industry and academic clients, BlueWise effectively manages assets and projects in a safe, efficient, and environmentally conscious manner.
Ultimately this helps clients focus on their core business, confident in the knowledge that they are adhering to the best practices outlined by the team at BlueWise.

Our little island may be small, but it is mighty; we are uniquely placed to tap alternative sources of energy – sources that may not be available to other nations. Leveraging the right technology, we can channel these resources and help empower local businesses – literally and figuratively – improving the lives of people here and inspiring others around the world.
Whether it be through solar – Solgrid – or wind and wave  – BlueWise Marine – we all have the potential for change and, as one planet, together we can make a difference and improve our world.
To learn more about Earth Day, you can visit this link.