Shannon Chamber of Commerce is holding an information event on branding aptly named "Does your brand really matter?"
Our founding partner and creative strategist, Ray O'Connor is the main presenter at the event.
Proactive Design and Marketing
Ray founded Proactive Design and Marketing in 1996 and it has since grown to be one of Ireland's leading marketing agencies. Proactive work with major brands both on a national and international level. Their client list includes GMIT, NUIG, LIT, Atlantic Aviation Group, TE Connectivity, and DeCare Dental Insurance. The team at Proactive has vast experience in branding which has transitioned from print to digital.
Ray O'Connor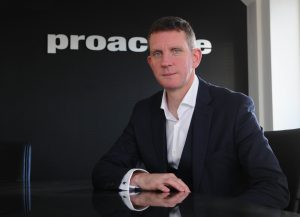 Although by day Ray is a graphic designer for Proactive, by night and weekend he is an avid Ultramarathon runner. He recently completed his 152nd marathon. This list includes multiple ultramarathons such as Marathon Des Sables, Connemara 100, Brathay 10 Marathons in 10 Days Challenge and 24-hour Ultra race in Helsinki. Ray is also the founder of RunIreland.com which has won the Eircom Spider Award.
Ray will be combining his vast experience in business with his personal challenges as an ultrarunner and will be asking the question: Are your customers listening and do they really care? He had this to say about the event:
I am looking forward to speaking at this event hosted by the Shannon Chamber of Commerce. Proactive has strong links with companies in the Shannon region and there is great enthusiasm to embrace digital marketing. It should be a lively debate.
To read more about Ray's life click here.
Event details
The event takes place on the 21st of March 2018 from 8-9:30 am in the Gateway Hub in Shannon. Tickets cost €20 for members and €30 for non-members.  You can book tickets here.