Event Season is in full swing!
The Proactive event season kicked off early Saturday morning June 9th with Forest Marathon Portumna and then on to the Irish Cancer Society Colour Dash in NUI Galway on Sunday June 10th. Two beautiful venues and two very different events.
The Irish Cancer Society Colour Dash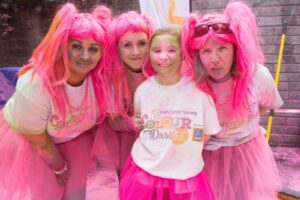 The Irish Cancer Society Colour Dash events have continued, having taken place in Phoenix Park last weekend. There were over 5,000 smiling faces taking part, and with a great turn out of brilliant volunteers the event was hugely successful.
This is such a fun event for us and for volunteers and participants alike, as over 8,500 people of all ages and abilities nationwide come together to walk, jog, or run a colourful 5K to raise funds for the Irish Cancer Society.
The Colour Dash events will take place again this weekend in the University of Limerick on Saturday, June 23rd and Pairc Uí Chaoimh in Cork on Sunday, June 24th.
To give you an idea of what to expect, have a look at one of the waves from Colour Dash Dublin:
Come along and join the fun, or sign up to volunteer here. 
Tough Mudder

Then it's Tough Mudder Season, and we all know what that means – screams of HOORAH, teamwork and a whole lot of mud.
Tough Mudder's 10-mile obstacle race takes place in Oldcastle, Co.Meath on July 21st & 22nd. It is our biggest event in terms of event management, with over 5,000 people on site on event day.
The Proactive team is kept busy in the months preceding Tough Mudder, with organisation, planning and promoting for the event, but things get particularly busy in the weeks leading up to event weekend with the build of the course.
Then the team get stuck in on event weekend with all hands on deck – a big change from office life, but one that we take on with enthusiasm and great excitement.
If you want to join the team and become part of the Mudder Volunteer Programme, sign up here.
If it's a Tough Mudder headband you're after, click here to find out more and to register your place in Ireland's most dynamic obstacle race.
Teamwork, camaraderie and overcoming challenges is what Tough Mudder is all about – qualities that we bring back with us to the Proactive office.
Connemara 100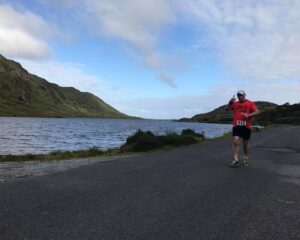 Next on the calendar is Connemara 100, where an intimate group of athletes and their teams travel west to run 100 miles on the West Coast of Ireland. The course spans from Clifden through Letterfrack, Lettergesh, the Inagh Valley, Maam Cross, Leenane, Inagh Valley again, then on to Roundstone, Ballyconneely and back to Clifden.
This event was founded by Ray, who supports the Ultra athletes through the night, along with their crews and supporters.
Run Galway Bay

Our event season ends with Run Galway Bay, the fun, flat and friendly full marathon, half marathon and 10K on October 6th, 2018.
This race is always a sell out, and just last week the full marathon sold out with five months to go.
This event brings over 3000 people to the Claddagh and along Salthill, creating a great atmosphere and a buzz across all of Galway.
With Run Galway Bay, we always go out on a high, looking forward to the following year already.
Event Season 2018
The events invigorate life in the Proactive office, and each event season brings us closer together with more stories, jokes, memories and experiences to share.
We strive for improvement each year and are always learning while maintaining the same energetic enthusiasm as always to each and every event.
A big thank you to our amazing volunteers who make it all possible, and all the particpants who leave our events with smiles and in good spirits.