Based in Galway and serving clients all over Ireland, Proactive Design and Marketing has been in business for over twenty years. The company has provided graphic design, marketing, web design and PR solutions to some of the top names in just about every industry. It is no mean feat to survive for two decades in this ever-changing, fast-paced environment. When Proactive opened its doors twenty years ago in 1996, it was a very different Ireland.
Managing Partners, Ray O'Connor and Angela Geraghty (Middle) with their minions, James Kelly, Breda Newell, Marguerite Lynch, Jimmy Burke, Denise Bermingham and Cormac Donoghue.Founder Ray O'Connor recalls,
"I was just 26 but had already gained 10 years full-time experience, mainly working in Jaycee Printers. I taught myself Photoshop very early on and got to grips with the newest technology emerging on Apple Mac. That was in around 1990. So when I decided to set up my own company, I did so with relative ease and confidence. We hit the ground running – it's been a busy but exhilarating 21 years."
Today, the company proudly produces work of the highest standards for clients in a broad range of industries. From local businesses to global multinationals; from state bodies to start-up enterprises; from cutting-edge IT companies to tourism and travel organisations; from financial services and one-man-brands to healthcare providers, retailers and everything in between.
"Failure was never an option. The downturn in the economy was the most challenging. Many of our clients were construction companies and developers who literally seemed to have disappeared overnight. The hardest day of my 20 years in Proactive was having to let four members of the team go in July of 2008. We had to reinvent ourselves as a company, work to leaner budgets and focus on design for digital. The big lesson for us from that time was to diversify at every opportunity and to keep our portfolio of clients as broad as possible."
---
Q & A with Proactive's Founder, Ray O'Connor
1. What are your favourite memories?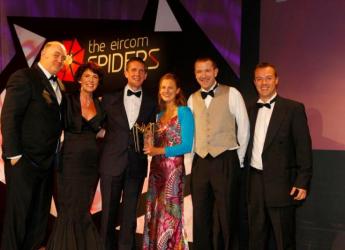 Winning our first big contract was a feeling I will never forget. I was so young and it really boosted my confidence. The contract was for
GMIT
– and 20 years later they are still one of our top clients. Winning an
Eircom Spider Award
for one of our websites, 
runireland.com
, was definitely a highlight – we really didn't think we were in with a chance and were joking at the table about who would go up to receive it if we did win. No-one volunteered but when our name was called out the whole table jumped up and ran to the stage. What we lack in decorum we make up for with enthusiasm!
2. What were the biggest milestones for the company?
After winning The GMIT account we very quickly won contracts with
NUI Galway
and
The Galway Arts Festival
. These projects gave us the profile we needed to expand rapidly. In January 2000 we moved to 6,500 square feet of brand new office space in Liosban Business Park and employed 23 people. Big brands which joined our client list included
Smyths Toys
,
Medtronic
, Boston Scientific and
Thermo King
, which gave us the security we needed. Other clients such as
Creganna Medical
,
Fallers Jewellers
and
Yeats College
grew with us and are still important clients to this day.
3. What was the most bizarre project or request from a client?
Betatherm asked us to do an advert for a thermistor that was so small it couldn't be photographed, so technically advanced we couldn't use the blueprints in case they were copied – but they wanted to show it in the advert. The concept we came up with was very simple but it worked.
4. Toughest deadline?
The Smyths Toys catalogue was an intense three-month long project with tough daily targets. Our team worked whatever hours were required and never faltered. I always enjoy a tight deadline as it offers a unique challenge – some say you cannot put a time on creativity, but I disagree. Sometimes you need a deadline, otherwise, your mind drifts and you can quickly miss the point.
5. Do you remember the first months of email and first mobile phones (or pagers) in the company?
The team will never let me forget that I once said 'Email will never catch on'. Of course, my world was full of high-resolution files, hundreds of megabytes in size and at the time it took 10 minutes to email even a simple Word document. I would never have anticipated that we would be sharing 1gb files instantly using cloud technology.
6. Why do you think Proactive survived when so many other businesses didn't?
We never really saw ourselves as graphic designers. Our purpose was to identify business problems and solve them and that has led the company to develop in so many ways. Strategy and consultancy are at the heart of every project we take on, regardless of the size – that's what makes us different. We are always one step ahead in new technologies and programmes. In such a fast-changing industry you simply cannot be left behind – we stay ahead and this year is a true celebration of that fact.
7. You have a nurturing approach to employee satisfaction and care. Do you think this helped in surviving for twenty years in business?
Absolutely, we are good to our staff and they are good to us. It really is a team effort with no hierarchy.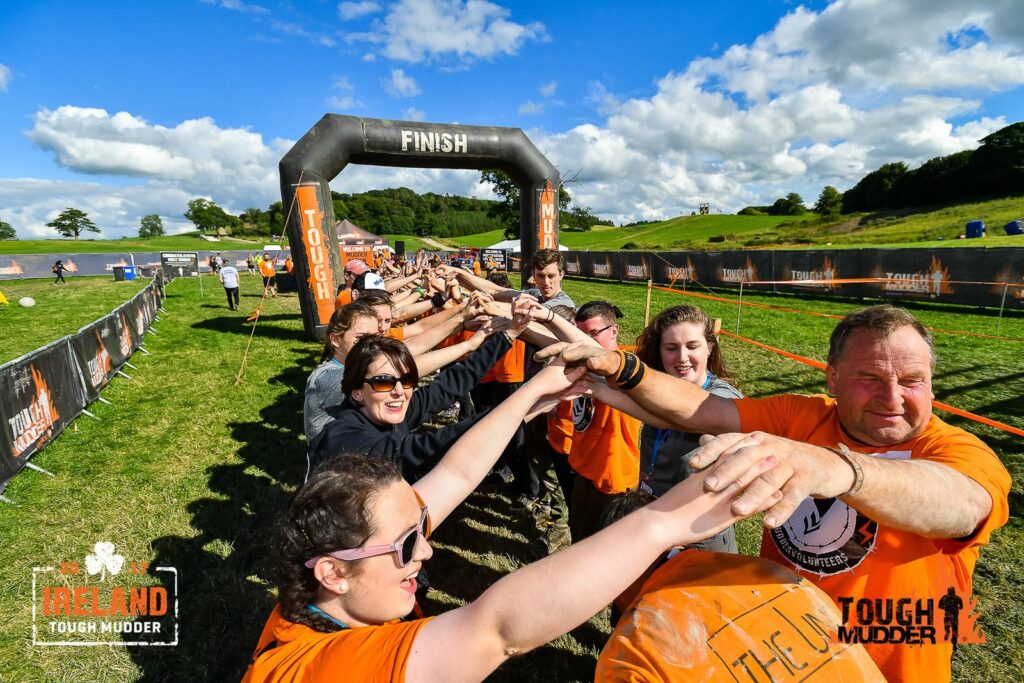 The Proactive team form a guard of honour along with the hardworking volunteers for the final participants of Tough Mudder Ireland 2017.
8. Where do you see the company in another 20 years? (In the year 2037).
We have to constantly look to see what's around the corner, what is the next big thing, how will people communicate. For me it is impossible to predict these things but we will stay at the leading edge of communication techniques and in 20 years time Proactive will be exactly what it is today – a company that helps people communicate and sell, we just might be doing it while circling the world in a satellite or something more bizarre.
9. Would you like to see the company move further into sports marketing?
10. What is your technological vision/predictions for the future (technology)?
Technology has always been a part of our business. In 1996, working on the Macintosh SE, technology was central to our business – 20 years later, the hardware has changed but our mindset is the same. The big difference in the last 20 years is that technology is now a part of our customers' lives and our customers' customers' lives. Technology is now, like 20 years ago, accelerating the pace of work and communications. Word of mouth is being replaced by social networks.
The future? We are now entering a period where a whole generation will have reached the age of 30 and will have only ever known life with the internet – there are information delivery expectations that come with this.  They are part of a generation that's always accessible, always communicating, always consuming, always searching, always looking for the next "thing". The challenge for businesses is to already be there when that customer goes searching.
11. If you could wish for one technological advancement or invention which would make your life easier, what would it be?
Cordless everything and limitless battery power!
---
Share this:
[apss_share networks='facebook, twitter, linkedin]