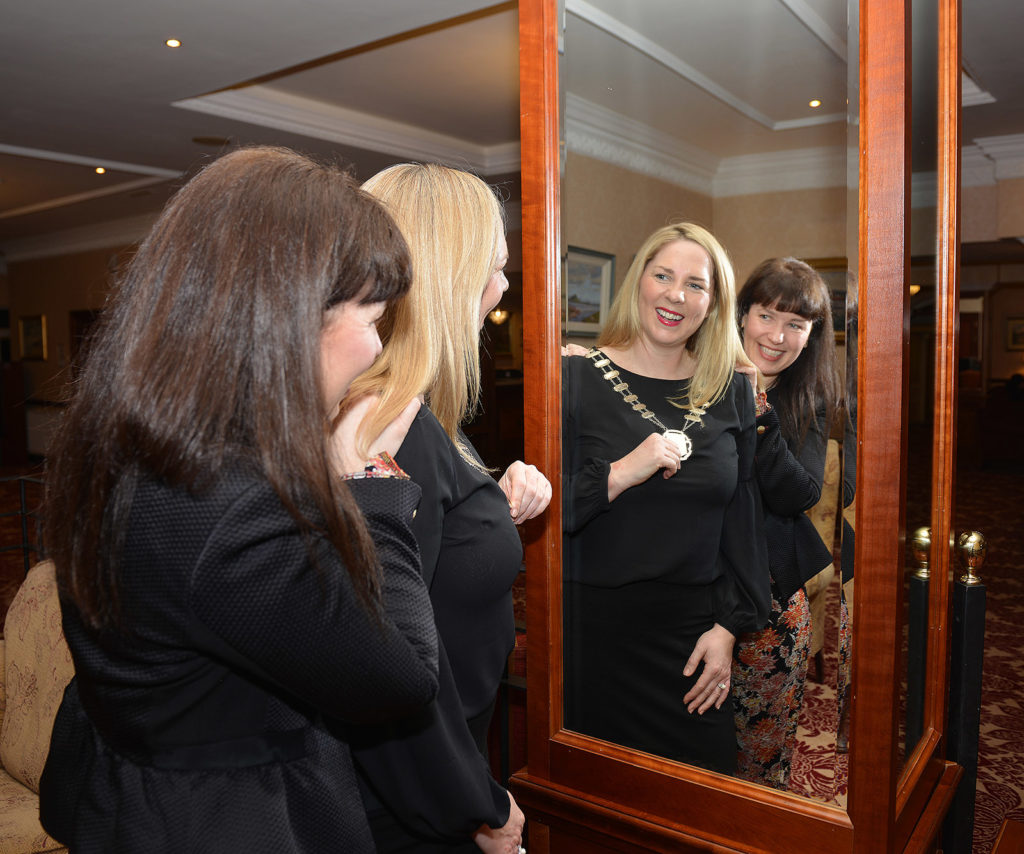 Joanne Murphy of Tri Talking Sport was officially appointed President of the Business and Professional Women's Club Galway at their AGM in the Ardilaun Hotel on Monday night (14th January), she takes over the reins from Valerie Murphy who held a two-year term of office at the helm of BPW Galway. 
A well known figure in Galway from her numerous years of professional fundraising for Enable Ireland and the Irish Cancer Society, Joanne has forged a successful career and business as an Event MC, Presenter and Sports Announcer in recent years.  Working with many international events at home and abroad she is widely recognised as the 'Irish Voice of IRONMAN' and is regularly heard in the National Indoor Arena as host of the Gymnastics Ireland events and competitions.
Complementing her presenting career she also provides sports event management and marketing support to a number of events, working with Lough Cutra Castle Triathlon as well as RunIreland.com, the sister company to Proactive Design and Marketing, she is also an ambassador for Windsor Galway Renault.
A keen triathlete and cyclist Joanne holds two endurance cycling records with her fellow Galway Triathlon Club members; The Galway Baybes for the Race Around Ireland (2017) and the Donegal Ultra 555k (2018). She is also a Global Ambassador for the IRONMAN Foundation's Women for Tri Initiative, encouraging women to take up the sport of triathlon regardless of age ability or aspiration.
Speaking about her appointment Joanne said:
"As incoming President, I am inspired and influenced by the many great Presidents who have held this role before me. BPW and its members have given me so much professionally and personally since I joined in 2010.  BPW is not just a club it is a community, built on friendship, shared values and great fun. I am a firm believer in 'you get back what you give out,' the more you get involved in something the greater the reward. I never thought that when I joined the club that I would one day be President and for this opportunity, I am most grateful."
Joining Joanne on the Executive Committee for 2019 are Annette Walsh, Vice President, Attracta Real, Treasurer, Sheelagh Mulcair, Secretary as well as Johanna Downes, Moyra Mc Mahon, Catherine Piggot and former President Valerie Murphy.
BPW Galway has a strong line up of events for 2019 including the Annual Candle Lighting Supper in the Harbour Hotel, the Summer Lunch in the Ardilaun Hotel and the highlight of this year the BPW European Conference taking place at NUIG from 24th– 26th May.
For more information on BPW Galway, joining the club or getting involved with their events go to www.bpwgalway.ie