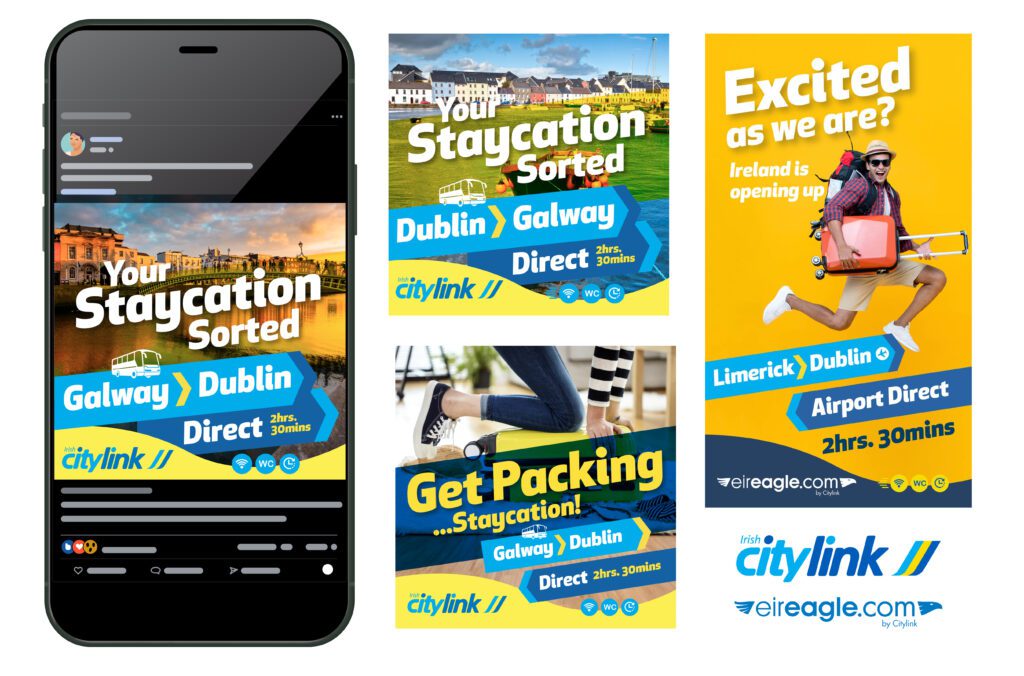 Client Background
Irish Citylink has been providing luxury intercity coach travel in Ireland since 2003. Based in Co. Galway, Citylink operates six main return routes with Express services from Galway and Limerick covering stops such as Dublin city and airport as well as Cork city and airport. 
Commuter services run from Galway to Athlone, Dublin city & airport and commuter services from Galway to Clifden. Offering around 100 daily departures in total across all coach services. 
Their distinctive blue and yellow branded coaches have become synonymous with high quality, reliable and affordable coach travel.
Objective
Citylink's main objective was to increase ticket sales and ensure that each service was at full capacity despite restrictions on passenger numbers due to government guidelines in place at the time.  
With a modern website and active social media presence, Citylink required support with a comprehensive digital advertising campaign to promote their Express routes as Ireland began to open up post restrictions and international travel had resumed. 
This campaign focused on the Express return routes from Galway to Dublin city and airport and their direct Limerick to Dublin airport route. 
Support was also required for offline marketing to design two newspaper advertisements in line with the digital campaign -one to feature in the Galway Advertiser and the other in the Herald newspaper in Dublin.
Strategy & Planning
Proactive created two campaigns that would run alongside each other; 'Your Staycation Sorted' which encouraged people to travel from Dublin to Galway or vice versa for a short summer staycation and 'Ireland is Opening Up' which was aimed at individuals interested in foreign travel. 
This campaign ran over the course of 8 weeks from July 8th to the end of August. The digital campaign consisted of Facebook ads using both flat and motion graphics as well as Google Search and Display ads.
Tactics
Persona: Through frequent communication with the client during the planning stage, it became clear that Citylink had defined persona's for each service route and this was incorporated into the design of the ad graphics. 
Tone: The campaign was very much a fun campaign. We wanted people to feel excited about Ireland opening up again and the possibility of travel within Ireland or abroad. 
Content: We felt the flat graphics as well as the use of motion graphics (digital footage which create the illusion of motion to make design elements easier to understand) would be the most appealing content to use for this campaign. Utilising the eye-grabbing colours from Citylinks brand colours as well as some adopted colours to really make the ads stand out and grab people's attention. 
Design
A lot of designs were required for this campaign to promote the various return routes and also to appeal to the set buyer personas. The Limerick to Dublin route also operated under a sub-brand called eireagle which required the use of a different logo and colour palette. 
Important features the client wanted to get across in the design were the availability of toilet facilities and wifi on their buses as well as their reputation for being on time. 
Facebook Ad Performance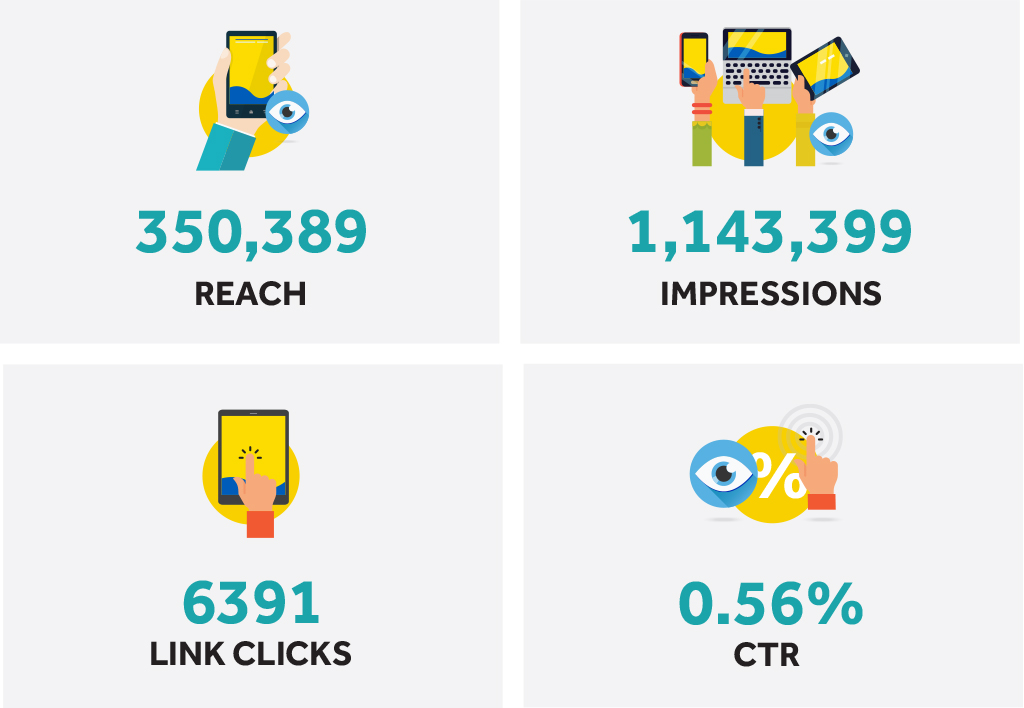 Google Display Ad's Performance